Greenways provide free, accessible, and safe areas for our residents and children to travel, exercise, and play with nature away from heavily trafficked areas.  The greenway will be a hard surface, making it accessible for strollers, wheelchairs, biking, running, and walking.
Many communities are seeing economic success in creating vibrant, active environments that promote healthy lifestyles.  Greenways increase tourism, enhance property values, add jobs related to trail construction, and attract families and businesses to the region due to increased amenities.
Greenways help us to engage in the natural world and improve our water and air quality.  Greenways promote non-motorized transportation, preserve land and vegetation, enhance the quality of our water through natural buffers, and reduce the effects of storm water run-off.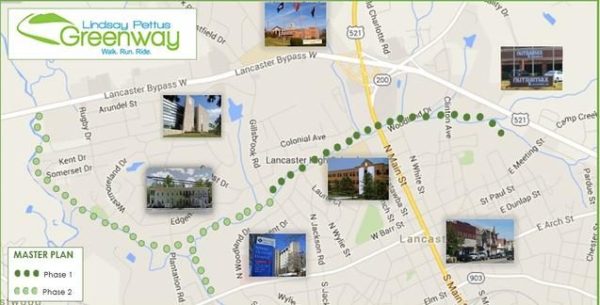 The Proposed Route
The Lindsay Pettus Greenway is a planned hard-surface trail for the City of Lancaster, South Carolina.  It will connect people to places of interest, including schools, the hospital and medical facilities, the downtown district, and other businesses.   It will run alongside Gills Creek and accommodate walkers, runners, and cyclists.
Donate now!
Join in the public support for a greenway in Lancaster!  We're a 100% volunteer-led non-profit organization.  Every dollar goes towards the construction of the Greenway.  Donations are tax-deductible as allowed.  Donate online or mail checks to: Lindsay Pettus Greenway, PO Box 1776, Lancaster SC, 29721.